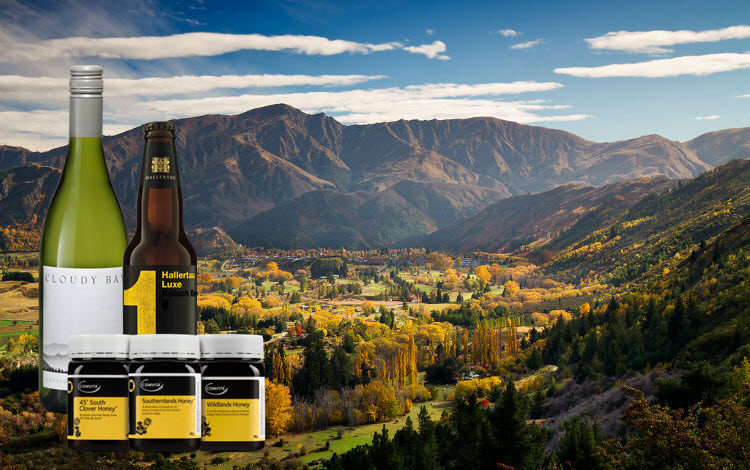 New Zealand – land of plenty
In a land of plenty, selecting the top ten foods produced, is no easy task.
With quality foods such as delicious roast lamb and kiwifruit, having defined New Zealand over the last few decades, the country now produces some of the best foods across the spectrum, that the world has to offer.  From honey and in particular manuka honey, salmon, green-lipped mussels and fresh seafood, crisp apple varieties and a myriad of world-class, award winning, gold medal wine.
Quality fresh food
With the quality of the fresh food and wine available, it's no surprise that new, innovative food recipes and food dishes and being created by well-known New Zealand celebrity chefs, Josh Emett, Simon Gault, Al Brown and Annabel Langbein, plus amateur cooks at home.
Food exports grow by the day, with agri, aquculture, dairy, functional foods and wine, helping put New Zealand food and beverage produces on the world stage.
1. Lamb
Roast lamb in particular, is synonymous with New Zealand.  In the 1980's there were 70 million sheep here, however on recent count, there were around 30 million sheep, yet New Zealand exports more lamb than ever.
2. Manuka Honey
Whether it's the medical healing qualities, the antibacterial properties or simply because New Zealand manuka honey is great to taste and spread on your toast,
3. Salmon
Fresh King Salmon in particular, from the cleanest, clearest rivers and oceans around New Zealand, is served across the other side of the world, literally within hours of it having been caught.  Fresh, frozen or smoked salmon is full of Omega-3, taste, texture and nutrition.
4. Kiwifruit
Originally known as Chinese Gooseberries, New Zealand, through the Zespri brand, produces the finest green and gold kiwifruit varieties.  Often described as a superfood, New Zealand kiwifruit contains more essential nutrients than 27 of the most popular fruits – twice the Vitamin C of an orange, the same potassium as a banana, as much fiber as bran flakes, sodium-free, low fat and a good source of magnesium.
5. Mussels
Greenshelled mussels are native to New Zealand and are also known as kuku, and kutai.  These are one of the largest mussel species in the world.  Farmed in the clean New Zealand waters, these high-quality seafood product, are iconic, tasty, juicy and versatile.  Whether steamed, raw, sautéed or in a soup, the haem iron qualities are 3 x that of steak per gram, along with excellent protein and Omega-3 levels.
6. Apples
New Zealand apples varieties include Gala, Royal Gala and Braeburn, Fuji, JAZZ, Pacific Rose, Granny Smith and Cox Orange Pippin.  With New Zealand's great growing conditions, the apples produces are flavoursome, crisp and versatile in their use, due to their consistent quality.
7. Cheese
With top quality milk, you expect top quality cheese.  That's exactly what you get when you bite into delicious, New Zealand cheese of any variety. From Aged Gouda, to very old Edam, to Organic Goat cheese, Classic Feta, Creamy Havarti, Vintage Cumin Gouda, Blue cheese, Brie, Camembert or the squeaky Haloumi and everything in between, New Zealand cheese stacks up with the best.
8. Wine
To experience New Zealand wines, is to experience part of what makes the country unique, innovative and world-class.  Whether it's your Sauvignon Blanc, Chardonnay, Pinot Noir, Sparkling Merlot & Cabernet Sauvignon Blends, Syrah, Riesling, Pinot Gris or Gewürztraminer, New Zealand wines are distinctive, pure quality and sophisticated enough to suit every palate.
9. Beer
New Zealand's most famous international brand of beer is Steinlager, however over the past decade many new, fresh and crisp lagers and boutique beers have made their way to bars and clubs around the globe. The clean, clear water has helped provide some of the tastiest, award-winning brews the world over. Wherever there is BBQ in New Zealand, there is a beer being opened and enjoyed with mates.
10. Water
With New Zealand having 14,000 kms of coastline, it is the 10th longest in the world. Water is everywhere. On land, there are countless fresh rivers, lakes and underground water supplies that are second to none.  With tap water that is often better than overseas water brands, our bottled water is simply pure. You have to taste it to believe it.
Come and enjoy the products in New Zealand
New Zealand produces great quality, fresh food and beverages, consumed in every corner of the world each day.  We would be honoured to have you visit our shores ad sample the food and wine delights first hand.  Tour the North and South Islands, visit Marlborough, Hawke's Bay, Auckland, Northland, Taupo, Wairarapa, Wellington, Nelson, Canterbury, Otago and everywhere in between and meet the locals. You can also view our top ten attractions here.