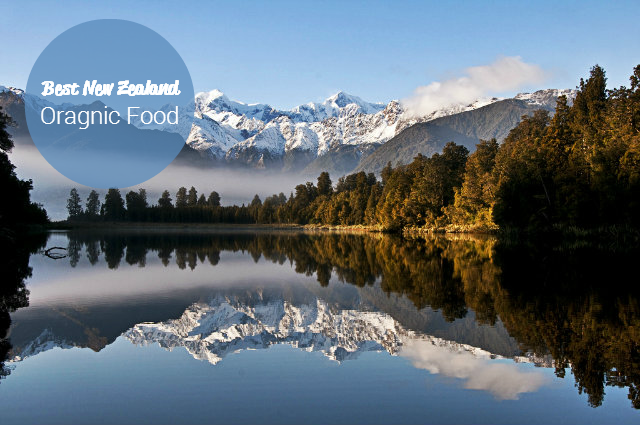 A Natural Environment well suited to growing organic food
New Zealand's natural environment is one of the cleanest in the world with its soils, water, weather and air perfect for growing organic produce. This produce can also be used for farming some of the worlds most premium cuts of meat such as our world famous lamb.
The ethos behind organic food also marries up well with how kiwi's view the sustainability of their country. Growth is encouraged by ensuring we grow our countries economy in a fashion that has minimal impact on the environment and in fact enhances it's stunning natural diversity to guarantee it's here for generations to come.
What makes food organic?
The food we have selected to be some of the best in New Zealand is based on a few guiding principles. These principles have been set out by the New Zealand government to ensure the highest possible standard of quality is applied to these products
In a broad summary the food we have selected adheres to the below in order for it to constitute an organic product:
Produce high quality organic produce in a sustainable, humane and non-polluting process.
Leverages renewable inputs within a cycle that would occur in natural ecosystems.
There are no fertilisers, pesticides, hormone stimulants etc used in the production of the food.
For more information on what our government recommends on organic produce then please go here: www.foodsafety.govt.nz or you can also find out more in-depth information and guidelines about organics in New Zealand here: www.organicnz.org.nz
So what are some of best organic foods in New Zealand?
New Zealand is spoiled for choice when it comes to premium quality, organic food. The following showcase's a selection of great natural food options and some of their associated producers or brands represented across some of the most popular categories.
Baby food
Ensuring your baby has a safe and healthy diet is a really important element to them growing up. So if you are looking for some trusted organic baby food from New Zealand then we can recommend:
GreenZoo – great selection of organic baby food combinations created out of real life experience.
Huckleberry Farms –  provide a great selection of organic porridge's specially designed for babies.
Only Organic – they have the widest selection of baby food products and are a widely known and trusted brand in New Zealand.
Milk Powder
New Zealand is renowned for it's whey protein and diary products in general so it's no surprise that we have a great list of organic milk powder providers. Here are some of the best:
Peak New Zealand – A great advocate for organic processing standards and trusted smaller nz brand.
Ogni – Great selection of completely certified organic milk powder.
Huckleberry Farms – As an alternative to milk powder, they produce a organic goats milk alternative
Wine
That's right! This fantastic local export from New Zealand also has wineries actively practicing organic viticulture to produce some fantastic wines. The following a dedicated and solely organic vineyards:
Tauranga Creek – check out their Pjnot Gris to drink during those warm summer months
Fancrest Estate – you can go past their Pinot Noir
Sunset Valley – we recommend their Chardonnay Reserve which is suitable for 2 – 5 years in the cellar
Cheese
If you are looking for something to perfectly partner with some of the above organic wine then take a look at some of the organic cheeses:
Retro Organics – A boutique cheese maker located in the Tuturua in Southland. Surprisingly diverse selection of cheeses from Blue through to Mozzarella
Hohepa Cheesery – Not only are their cheeses organic but they give back to the community in more ways than one. A real favourite of ours
Aroha Organic Goat Cheese – Another organic alternative for those people who are diary intolerant – goats cheese.
Honey
We talk a lot about manuka honey but there are some fantastic organic honey's from New Zealand out there as well:
J.Friend& Co – A stunning range of organic honey products and one of our favourites!
Tranz Alpine – Another boutique producer but with some great organic honey products
Strathdale Honey – Situated in one of the purest of regions in New Zealand – Middlemarch in Central Otago
Lamb
The first choice for any kiwi looking to impress on the BBQ. Lamb is an institution (nearly a religion in some parts) in New Zealand and we pride ourselves on producing the finest in the world.
Marama Organic Meat – located in South Otago, they live and breath producing high quality cuts of organically farmed lamb
Te Kainga Meat Company – produces of great organic lamb who have diversified into providing gourmet sausages
Harmony Meats – a fast growing provider/supplier of not only fantastic organic lamb but a whole variety
Any Questions?
If you have any questions about the above foods or any other organic foods you would like to know about then don't hesitate to comment below or get in touch here.